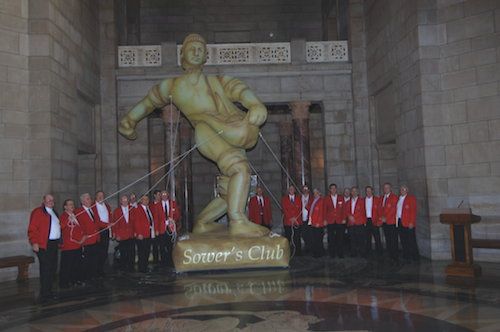 The Sowers Club of Lincoln, Inc. has a history dating back more than 100 years. Beginning in 1887, this organization began as the Union Club, which was formed to be a men's social group representing Lincoln's business community.
Over the years, the Union Club consolidated with the Lincoln Commercial Club. The new role of the club was to promote economic development in the younger capital city; promote community improvement; and promote camaraderie. The Union Commercial Club was later renamed the Lincoln Commercial Club.
In the 1920's, the Lincoln Commercial Club joined with similar organizations across the United States to form the U.S. Chamber of Commerce. The Sowers Club was the "sub-group" of the Chamber who traveled through Nebraska selling Lincoln as a trade center. Our theme was, "Purchase whatever you can in your hometown; however, if a particular item is not available in your hometown, come to Lincoln to shop."
The Sowers Club of Lincoln, Inc. was incorporated in 1977. Since this time, The Sowers Club Membership has continued making several trips a year throughout Nebraska. By joining the business leaders in other communities, members were able to share ideas for improving the community's quality of life, and to better know and boost all of Nebraska. Years later, The Sowers Club explored the option of selling pickle cards for additional funding. By selling pickle cards, the club has been able to provide financial assistance to charities throughout Nebraska, making a better quality of life possible for children and families.
The Sowers are proud in knowing they can help brighten the lives of many people in Nebraska.
Members participated in many local events, either by active involvement or sponsorship. You will find The Sowers involved in the Cornhusker State Games Adopt-An-Athlete, Nebraskaland Days, and Elementary Schools' Activities.